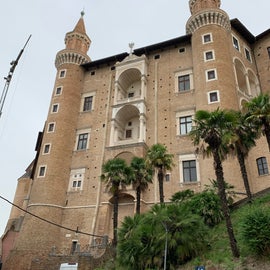 Palazzo Ducale in Urbino, the birthplace of the Renaissance, Galleria Nazionale delle Marche, is wheelchair accessible. Barrier-free access to the first floor is provided by a lift. An inclined lifting ramp along the main staircase allows entry to the second floor. The most famous paintings are prepared for blind visitors; a pair of monumental fireplaces is also embossed. Everything is complemented in a text in Italian Braille. For deaf visitors, there is a video in which they have an interpretation in Italian sign language - about the palace, the owners and the collections. Wheelchair accessible toilet is a part of toilets located on the ground floor of the palace.
Palazzo Ducale v Urbinu, místo, kde se zrodila renesance, sídlo Galleria Nazionale delle Marche, je bezbariérově přístupný. Bezbariérovost do prvního patra zajišťuje výtah. Do druhého patra umožňuje vstup šikmá zvedací plošina podél hlavního schodiště. Pro nevidomé návštěvníky jsou připraveny reliéfní ztvárnění nejznámějších obrazů; rovněž reliéfně je představena dvojice monumentálních krbů. Vše je doplněno textem v italském Braillově písmu. Pro neslyšící návštěvníky je připraveno video ve kterém mají poskytnutý výklad v italském znakovém jazyce - o paláci, majitelích a sbírkách. Bezbariérová toaleta upravená pro vozíčkáře je součástí toalet umístěných v přízemí paláce.
Text was translated from Czech.
View original.
View translation.
WC accessible
Ask people who visited this place